Me, The Dave's, and my Auburn Tigers Wake and Bake game
Southern Mississippi @ Auburn, 12:30PM MyAtl TV
ah, SEC football on Raycom sports to start my college football Saturday. i truly will miss this game more than anything when ESPN takes it over next season. Auburn makes their Raycom debut of the year in a good old matchup with Southern Miss. Golden Eagle vs War Eagle! call it spreadtastic as both teams have gone from traditional power runners to a more wide open offense. it could be a highscorer or it could be a total dud. regardless i'll be watching.
Is This The Best You Can Do?
Ole' Miss @ Wake Forest on ABC 3:30pm
Wake Forest is the last remaining ranked ACC team. Ole' Miss looks like the most improved team in the SEC. let's see, what happened last weekend when a ranked ACC team went up against an SEC foe they were favored to beat? oh yeah, gun shot to the head and Clemson was found dead in a vacant lot several hours later. i think more of the same thing is probably due the Demon Deacons. watch out SEC, Houston Nutt is coming for you.
Does Notre Dame Still Suck? (aka why does NBC pay them to air this shit?)
San Diego State @ Notre Dame on NBC 3:40pm
i will assume Notre Dame still sucks, but not as much as Michigan and i'll tune in for a series or two to see if Charlie Weis has a heart attack or not. what a boring fucking matchup. at least the Irish figured they should stop scheduling so many teams that are way better than them...unfortunately that only left Syracuse and San Diego State.
The Come Back To Reality Game
East Carolina hosts West Fucking Virginia on ESPN 4:30 pm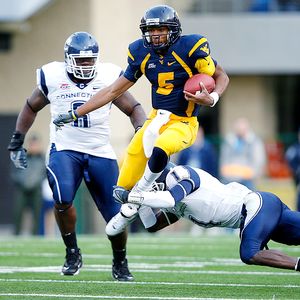 so ECU beat the Hokies with Beamer ball and everybody is calling Skip Holtz the hottest young coach in the nation...how should you follow that yo? how about prepare for the ass beating of your life time as the newly pass crazy Pat White invites you into his house for him to pad his Heisman stats with a blowout win over your chump ass.
7PM- Eat Something, take a piss, get more beer.The "Tim Tebow Punishes The U for years of sinful behavior" Game
Miami @ Florida, ESPN 8PM
let's see the most talented team in the SEC vs. a team that used to rule and now is starting a freshman QB for his first snaps against the Gators in the Swamp...sounds like a blood letting. actually i think this game is closer than you guys think...which probably still means a 20 point win for Florida.