ah, the Heisman Trophy. the worlds greatest paper weight of all time, next to the Grammy for Best New Artist and the Oscar for Best Original Screenplay. 2007 saw the first Sophomore in the history of college football win the damn thing. which gives Tim Tebow 2 chances to tie Archie Griffin with winning the thing twice, thereby making Tebow's chances of being a star in the NFL twice as unlikely. there are a ton of viable candidates for the 2008 Heisman and i'm sure some darkhorses like Dennis Dixon and Matt Ryan will rear their heads for brief moments during this season only to fall away unloved and uninvited to New York at season's end. so i'm not interested in darkhorses. instead i give you the top 5 most likely candidates for the Heisman and then as a bonus 5 other guys who are getting hype that have no fucking chance whatsoever.
Top 5 Heisman Frontrunners 2008
1. Chris Wells. Runningback, Ohio State
he's a 6 foot 1 237 pound battery ram with good speed in the conference built on big strong power backs. he plays for Ohio State which automatically makes him a media darling and someone the Herbiebot will talk about all season. he rushed for 1,609 yards (with 222 of them coming against Michigan) and 15 touchdowns last season and gave Ohio State it's only highlights in the BCS title ass whipping they received from LSU.
why he will win it: plays for Ohio State. will be on TV a lot. will be in the national title hunt. could end up rushing for 1,800 yards and scoring over 20 touchdowns. is a beast. plays a pretty easy schedule that should help him pile up stats.
why he won't: injury obviously could derail his season. other than that the only major obstacle would be if he gets shut down against USC and the Buckeyes get blown out as a result. if the Buckeyes somehow beat USC then go ahead and book his trip to New York and make some space in the trophy case.
2. Tim Tebow. Quarterback, Florida
last year's winner will have some trouble repeating for sure. granted Florida's schedule is much easier than last season as they don't have to lose to Auburn (except in the SEC title game) and they get LSU at home, but Tebow's eye popping stats from last year (over 3000 yards passing with 32 touchdowns and another 895 and 23 touchdowns rushing...yeah wrap your fucking head around that shit!) will more than likely take a hit with Chris Rainey and Emmanuel Moody taking over more of the rushing duties.
why he will win it: Tebow is college football's golden boy. he helped win a national title his freshman year and he won the Heisman his second. he broke tons of SEC records. he's a proven leader. he's a likeable, hard working and humble kid who just happens to be fucking awesome at college football. he loves Jesus and the Gators and he does everything for his team. if Florida is undefeated or in national title hunt all season and he can get a come from behind victory or a win against Georgia and an SEC title, then i wouldn't be surprised at all if Tebow repeated as the Heisman winner.
why he won't: his numbers can't possibly be as good as they were last year. also Tebow's record against top teams isn't very good as he lost to Auburn, LSU, Georgia, and Michigan last year. if Florida loses those kinds of games this year then he's got no chance. plus those fucking Northeastern Yankee sportswriters are notoriously fickle bastards and are likely to fall in love with Wells instead of rewarding the southern boy with a Heisman sequel. also don't rule out the possibility that even if Florida has a big year, his teammate Percy Harvin could come along and win the Heisman like Reggie Bush did to Matt Leinart.
3. Pat White. Quarterback, West Fucking Virginia
the nations active leading rusher (that's ALL players, not just QBs) enters his senior season at West Virginia with things set up for both a run at the Heisman and a possible BCS title game. no single player means more to his team than White, as was evident in their loss to Pitt last season when White was hurt for most of game. he's been one of, if not the best running qbs in the history of college football and he has the potential to put up huge numbers for West Virginia both rushing and passing as long as he can avoid injury. his season is basically going to be 3 games, with the out of conference matchup against Auburn and then the rematch with Pitt and the season finale against South Florida. if West Virginia wins all of those and White has big games in each then he could find himself with the biggest and most useless paperweight in sports.
why he can win it: he's a four year starting QB for a national title contender who will play a lot of games on TV. he's been one of the best players in college football the last 3 seasons. he plays in an offense that will score a lot of points and give him an opportunity to put of big stats. if he can beat Auburn and South Florida and his team is undefeated at the end of the year then there's no way he won't be in New York.
why he won't: the Auburn game could mean a lot for White's Heisman chances as well as his teams season in general. no player's chances are more tied up in his own team's success as White's will be. West Virginia has been a giant killer in bowl games, but they've never had that big regular season win against a traditional power...any loss to Auburn will probably knock West Virginia out of the BCS title game and end any real chance White has at taking home the trophy. also because White plays in the Big East against weaker competition it will turn off some voters.
4. Chase Daniel. Quarterback, Missouri
Daniel was a player who came out of nowhere last season and ended up a Heisman finalist. a lot of Daniel's hype was based around his team coming out of nowhere to be a brief national title contender... but it's hard to ignore the numbers he put up (4,306 yards passing and 33 touchdowns with another 4 rushing scores). Daniel has an elite receiver to throw to and a NFL caliber tight end and so his numbers should be about where they were last season, if not higher. like Pat White, he's a senior QB whose own success will be largely dictated by how well his team performs.
why he can win it: the numbers that Daniel should put up this season could be in the realm of another 4000+ passing and between 35-40 touchdowns. that alone should land him back in New York. if Missouri can remain in the top 10 all season and he can notch a big comeback win or a record breaking performance against a quality opponent then i could see him winning the Heisman.
why he won't: i don't really think Daniel has to lead his team to the BCS title to get the Heisman, but i do think he needs to win his conference championship to have a realistic chance at taking home the trophy, and we saw how well Missouri did against Oklahoma in both of the games they faced the Sooners last year. also if Daniel has a big season and the Tigers are in a title hunt, his own teammate Jeremy Maclin could steal some votes from him.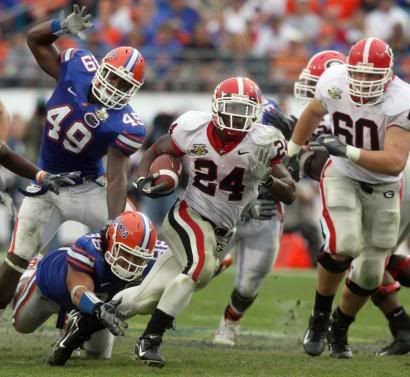 5. Knowshon Moreno. Runningback, Georgia
the dancin', tackle breakin', black jersey wearin', touchdown scorin', soulja boyin', coed bangin' King of Athens, Georgia leads the number 1 team in the country into the season with more hype surrounding him than any Georgia back since some guy named Walker. it's hard to deny the fact that Georgia was a completely different team once Knowshon became the featured back. he sparked the Dawgs to wins over rivals Florida and Auburn and has the kind of swagger about him that will get him lots of press and highlight plays on Sportscenter.
why he will win: if Georgia really does have the kind of season that their dillusional fan base believes they can than Moreno will surely be one of the top Heisman canidates all season. he won't have to lead the nation in rushing or put up mind boggling stats, he just has to keep on winning.
why he won't: quick name me the last running back in the SEC to win the Heisman. if you said Bo Jackson then congradulations. Knowshon is hardly on that level. besides if Darren McFadden couldn't win it do you really think Moreno has a shot? plus the schedule the Dawgs play is murder and i fully expect Caleb King and Richard Samuel to see a ton of action this season for Georgia cutting down on Knowsons carries to keep him healthy for the big games. if Georgia really does have a dream season then i'd think Matt Stafford is also gonna have to have a huge year and QB's for national title contenders are always sexier than workhorse runningbacks. so don't be surprised if Stafford is the one in New York at the end of the year over his teammate.
5 guys with no fucking shot.
1. Graham Harrell. QB, Texas Tech- sure he'll probably throw for 5000 yards and 40-50 touchdowns, but what Texas Tech QB hasn't done that?
2. Michael Crabtree. WR, Texas Tech- the best wide out in college football plays on a team with a gimick offense that inflates his stats. plus his QB will likely get more votes from the media.
3. Mark Sanchez. QB, USC- the QB for the Trojans should always be looked at as a Heisman canidate in the same way that Miami QBs were always getting Heisman hype. unfortunately Sanchez is already starting the season with a knee injury...plus this is his first full year as a starter. even if USC is undefeated at the end of the year it's more than likely to have been because of the play of their superior defense. i expect Sanchez to be the front runner next season, this season i think at best he might finish in the top 5 for voting.
4. Sam Bradford. QB, Oklahoma- he had a huge freshman year last season and will be the QB of a national title contender, but i think his teammate RB Demarco Murray will likely be getting more of the attention than Bradford.
5. Todd Reesing. QB, Kansas- granted he had a great year last season and lead his team to a Orange Bowl victory but there's no way that Kansas is going 12-1 again this year. i'm predicting at least 4 losses for the Jayhawks and Reesing to get overshadowed by other QBs in the Big 12 like Daniel, Bradford, Harrell, and Colt McCoy.